Noosa and the Sunshine Coast have an infinite range of locations that lend themselves perfectly as a venue for your special event. Make some memories that will last for a lifetime.
Noosa Picnics is a Sunshine Coast council approved picnic hire company. Katrina Scott, their passionate owner, has been creating lasting memories for over 8 years. 
They offer an array of settings to suit all events, from marriage proposals, to birthday gathering and so much more. Their settings look just as beautiful on the beach as they do in the hinterland or gardens or even on the patio of your holiday home
Don't be fooled by the name 'Noosa Picnics'; they do service the whole Sunshine Coast region. They will travel all over the Coast to help you plan and celebrate your next event. Their range of beautiful picnic packages include: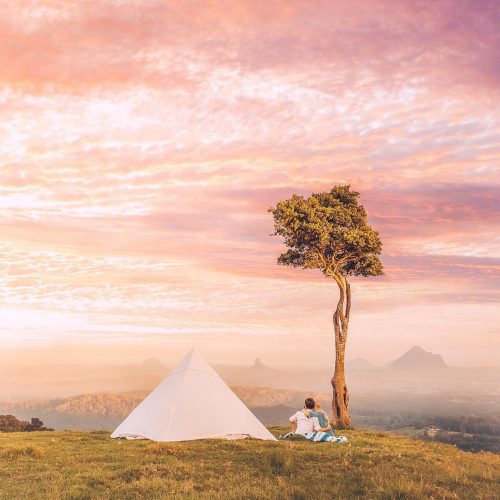 Enjoy a romantic picnic for two. It can be set up on any of the Sunshine Coast's beautiful beaches or in the hinterland among the trees or fields. Few experiences match the romance of this intimate setting.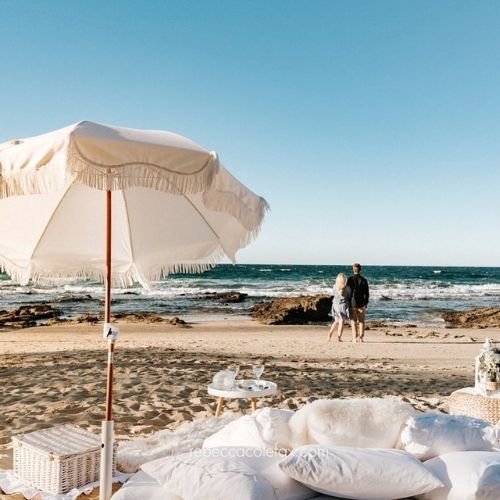 A stunning bohemian picnic setting, perfect for a romantic date or catch up with a friend – complete with parasols, soft linen cushions, everlasting roses, and a chakki table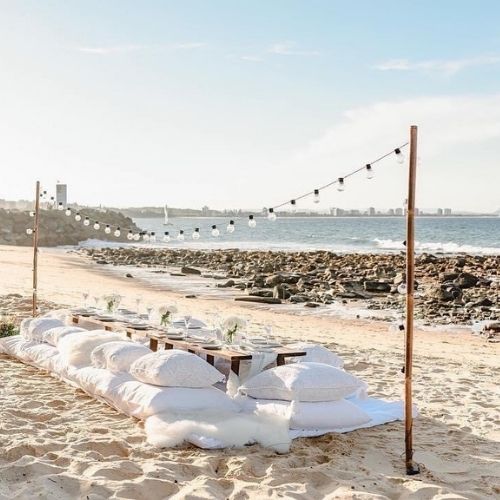 A luxe soirees picnic set up is ideal for larger gatherings, such as hens parties, birthdays, baby showers, work parties or just because you want to catch up with the girls. Count us in!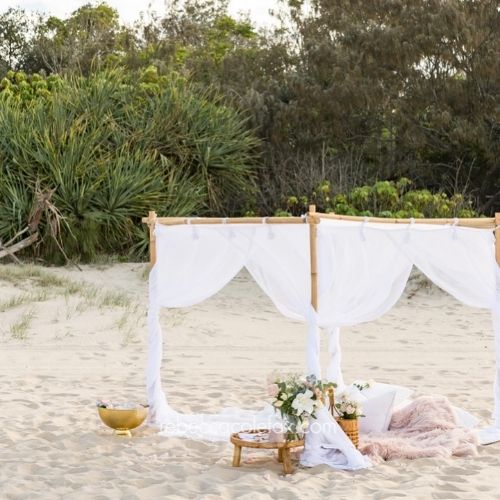 Elegant and romantic canopy set up for romantic dinners for two, or the most special proposal. Complete with a bottle of champagne and a fresh floral arrangement – it is the perfect package for a luxurious Sunshine Coast proposal.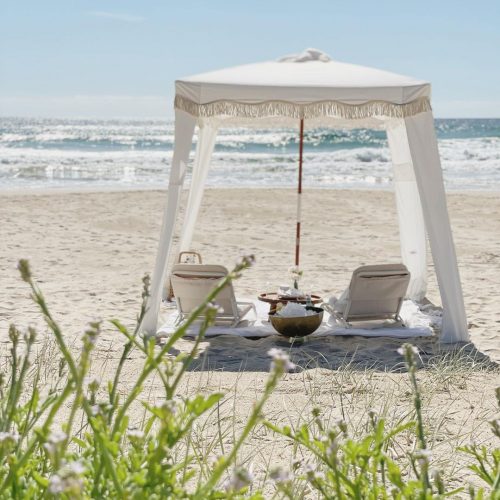 Watch the sunrise or sunset over the rolling azure waves with your loved one under this charming natural beach canopy. Did someone say breakfast mimosa's on the beach? A Noosa holiday would not be complete with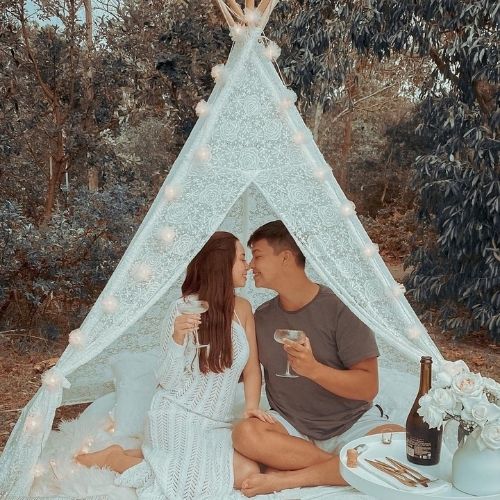 Let the light of the golden sun filter over you and your loved one through this elegant bohemian lace teepee. This charming little setting is perfect for those warmer months in Noosa.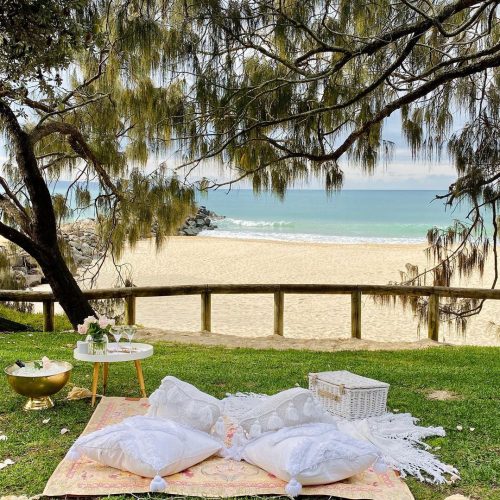 Simple yet elegant. Relax on a beautiful wandering folk or Isla in Bloom rug with your partner while the sun sets below the waves before you. Here you can lay back on the plush linen cushion and talk under the stars with a champagne in hand. 
Noosa Weddings and Proposals
Noosa Picnics has an array of packages to suit Sunshine Coast or Noosa based proposals, small weddings and elopements. Katrina is passionate about making every event as memorable as possible. Whether you have a crystal clear image of what you want or are completely unsure where to start, Noosa Picnics can customise the perfect package to create an event you'll never forget.
Forget the stress; let them do it all for you. They can organise the set up, purchase local flowers and coordinate with your photographers and caters. So, all you have to do is remember to bring the ring! Noosa Picnics proposal packages are a must!
Elopements & Small Weddings
Planning to elope or get married  but don't know where to start? Let Noosa Picnics help you.
Experience a night to remember with a luxurious bohemian elopement. Find your own celebrant or and let Katrina be your witness. 
The newlyweds can lay back and relax after you've exchanged your vows. Take in the scenery, whether it be of waves or mountains, and feed each other chocolates and wine from the delicious hamper – yes just like the movies. 
Sand and beaches not your thing? Or you want a special night but don't feel like going out? No problem! 
Relax in one of our luxurious apartments and let the entertainment come to you. Noosa Picnics can come to your Sunshine Coast accommodation. Let them set up on the balcony of your apartment or in the living room and enjoy a special dinner event with your friends or loved one without leaving the house.